Seoul, Korea high school summer highlights:
Major high school group in Seoul, Korea
Study on university campus
Homestay for language and culture immersion
Dates & fees
2024 dates and fees coming soon.
Jul 1-Jul 22, 2023  (3-week) USD $3945
Jul 23-Aug  13, 2023 (3-week) USD $3945
Jul 1-Aug 13, 2023 (6-week) USD $7445
Features of high school Korea summer program:
--A major high school group in Korea with fun group atmosphere.
--Trusted group program with more than 10 years of history
--Language classes on university campus
--Homestay with warm-hearted families or dormitory
--Wide spectrum of culture activities and trips.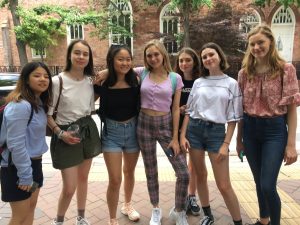 Unlike general consortium programs with a small group size, our Korea program is the only large annual group for high school student in Korea with a group size of about 30-40 students, so our students have a fun and interactive learning environment and can always make friends close to their age.
With a feature of university campus study and homestay living, the program gives high school students a rich experience.
This junior Korean Summer program is open to students age 14 -18, it operates as a summer camp type of setting with a broad spectrum of culture, trips and activities and homestay with our warm-hearted host families or dormitory with walk distance to classroom.
    The language study is hosted at a local university, which provides high quality instructions, a safe and comfortable learning environment.   Staying with a local host family allows students to immerse in the local language and culture, and interact with local people.   The trips and culture lessons are to complement the language classes to make a fun and enriching experience.
Age requirements:
Age 14-18 by the program start date.  Our students come from different countries around the world, from USA, Canada, and European countries, etc. It is a great opportunity to make new friends.
Brochure:
To request an electronic brochure, you can send an email to: consultant@langubridge.org, please put "Korea brochure: high school" in the subject line.
Our Korea program is proud to be rated as one of the top 10 study abroad programs for high school students by goabroad.com, click here to see the details.
Video from a 2022 Korea summer student (Shayna Dearman-So)