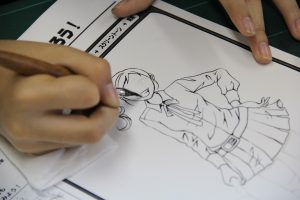 The following are the course information for our Manga programs, this is for those students who intend to learn Manga and Japanese all at same time in a 3 months period.
In this program, you will learn how to draw a face and whole body in Manga, above all, how to draw characters in different genre of Japanese Manga such as Ninja, Teen Drama, adventures, etc.
Daily schedule: Conversation course (morning) + Manga studies (afternoon). The Conversation courses are 20 lessons/wk) + the Manga courses are 16 sessions (120 minutes/session).
Japanese curriculum:
All levels from beginner to high intermediate.
Manga curriculum
1.Orientation to the course and outlook of Japanese Manga:
Self-introduction of the participants and orientation to the course. Introduction to the characteristics of Japanese Manga. Guidance with various drawing tools expected to be used in the course.
2.Drawing process of Manga Exercises:
Drawing with a dip pen, filling in procedure, whitening out with liquid and screen sheets.
3.Character faces:
How to draw the face. Deformation theory and expressive techniques to show human feeling such as joy, anger, sorrow and pleasure.
4.Drawing the character as a whole:
Positioning technique of the whole character. Head and body and their proportions. Deformation and attractive poses.
5.Character design 1:
Methodology of characterization through fashion, body shape and hair style.
6.Character design 2:
Drawing the character in different genre of Japanese Manga such as Science Fiction, Samurai era story, Shojo Manga (Romance and Teen Drama), etc.
7.How to draw the background:
Exercises. Drawing with a dip pen, filling in procedure, whitening out with liquid and screen sheets.
8.Story writing and the basics of scene allotment:
Basic theory of story writing such as the four part structure of introduction, development, turn and conclusion. How to guide readers' viewing order by the scene allotment.
9.Story and scene allotment:
Trial production of 1 page scene allotment based on an exsit story
10.Field trip:
Learning Japanese Manga history and observation of Japanese sub-culture.
11.Digital production by computer:
Drawing Manga using "Comic Studio", a piece of computer software.
12.Graduation project 1- monochrome (Draft):
Production of the face page of an original character or the participant's self-portrait.
13.Graduation project 2- monochrome (Completion):
Completion of the monochrome graduation project.
14.Graduation project 3- digital color:
Coloring of the project work by "SAI", a piece of computer software.
15.Graduation project 4- digital color:
Completion of the digitally colored graduation project.
16.Final comment and graduation ceremony:
Review and comment on each graduation project. Presentation of the completion certificate for the course.
A term is either 4 weeks (brief course) or 12 weeks (comprehensive course), here are the following terms:
4-week terms:
January 6-31, 2020
March 30- April 24, 2020
July 6-31, 2020
October 5-30, 2020
8-week terms:
January 6-February 28, 2020
March 30- May 29 2020
July 6-August 28, 2020
October 5-November 27, 2020
12-week terms:
January 6-March 27, 2020
March 30- June 26, 2020
July 6- September 25, 2020
October 5- December 25, 2020
Student arrival date for airport pickup (for a fee) is the Saturday right before the start date, student departure date is the Saturday right after the end date.
Deadlines:
2 months before the start date.  It maybe possible to apply if less than 2 months before the start date, please contact us for availability.
Eligibility:
Generally a student need to be at least 18 years old.  If you are under 18 and very independent, please contact us for approval.
TUITION FEE:
392,000 Yen/(12 contact weeks).
268,000 Yen/(8 contact weeks).
154,000 Yen/(4 contact weeks).
ACCOMMODATION FEES:
Homestay: 21,000 yen/Week;
Dormitory: 60,000-100,000 yen/month depends on locations and types.
Accommodation placement fee: 10,000 Yen
see accommodation section below for details
OTHER FEES:
Bank surcharge 4,000 Yen;
Airport pickup: 15,000 Yen (Saturday), 30,000 Yen (Sunday).
Students can choose either homestay or school dormitory.
The homestay allows students to live with local warm-hearted Japanese family, it is a quick way to improve the Japanese language and learn the culture. Student has his or her own bedroom. Meals are provided by the host family, it includes breakfast and dinner for weekdays and 3 meals for the weekends.  homestay fee is 19,600 yen/Week.
The school dormitory is an alternative style of living. It is a furnished bedroom. The kitchen and bathroom are shared among the students. Meals and utilities are NOT included.   Fee from 60,000-100,000 yen/month depends on location.
Apartments are a little more expensive with extra privacy such as your own kitchen and bathroom.  Fee is above 90,000 yen/month.