Culture Discovery: (A, B & C)
Description of Schedule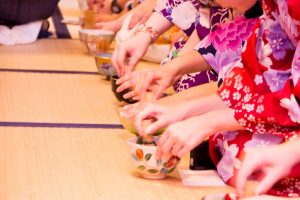 Tokyo-A: Jul 2-Jul 30, 2022 (4-week )
Tokyo-B: Jul 30-Aug 20, 2022 (3-week )
Tokyo-C: Jul 2-Aug 20, 2022 (7-week)
Youth Immersion: (Tokyo E)
Description of Schedule
July 16-Aug 7, 2022 (3-week) 
Culture Discovery: Description of schedule
Before your departure to Japan, you will received host family information and airport pickup information, and pre-departure guide.
We will pick up students at the Tokyo Narita International Airport on the Arrival day (Saturday).
On Monday, it is the day of orientation, but do not buy your commuting pass yet, as the classroom location will be determined by your level and you may have to get off from a different station nearby.  You will have the orientation session and take a placement test.
Depends on your level, you will attend either lessons in the morning from 9:10-12:40 pm, or in the afternoon from 1:30 pm or 5:00 pm. Lunch hour is between 12:40 pm to 1:30 pm.  Depends on the day, there is either culture activities or free time for the rest of the half day.
Saturday is usually organized day trips and Sunday is free.  At the end of the program (and middle of the program for Tokyo C), there is a three day long haul trip to either Fuji Mountain or Kyoto.  You will get back from the long haul trip on the last Friday and say with your host family for the last night.
On next day (Saturday morning), you will leave your host family's house to the airport, please note that airport drop off is NOT arranged.
(schedule maybe subject to change)
Back to top
Tokyo-A: Jul 2-Jul 30, 2022 (4-week )
Day
Date
AM
PM
Sat
Jul 2
Arrival/Airport pickup
Sun
Jul 3
Free time
Mon
Jul 4
Orientation/ Placement Test
Free time
Tue
Jul 5
Lessons
Culture: Yukata
Wed
Jul 6
Lessons
Free time
Thr
Jul 7
Lessons
Culture: Handcraft
Fri
Jul 8
Lessons
Free time
Sat
Jul 9
Trip: Tokyo tour (all day)
Sun
Jul 10
Free time with your host family or friends
Mon
Jul 11
National holiday
Tue
Jul 12
Lessons
Culture: Sushi Making
Wed
Jul 13
Lessons
Free time
Thr
Jul 14
Lessons
Trip: National Museum
Fri
Jul 15
Lessons
Free time
Sat
Jul 16
Trip: Fuji Q Highland (all day)
Sun
Jul 17
Free time with your host family or friends
Mon
Jul 18
Lessons
Free time
Tue
Jul 19
Lessons
Kyoto Orientation
Wed
Jul 20
Lessons
Free time
Thr
Jul 21
Lessons
Free time
Fri
Jul 22
Lessons
Trip to Kyoto
Sat
Jul 23
Trip to Kyoto
Sun
Jul 24
Trip to Kyoto
Mon
Jul 25
Lessons
Free time
Tue
Jul 26
Lessons
Trip: Tokyo Skytree
Wed
Jul 27
Lessons
Free time
Thr
Jul 28
Lessons
Buffet Lunch
Fri
Jul 29
Graduation
Sat
Jul 30
Departure
Back to top
Tokyo-B: Jul 30-Aug 20, 2022 (3-week )
Day
Date
AM
PM
Sat
Jul 30
Arrival/Airport pickup
Sun
Jul 31
Free time
Mon
Aug 1
Orientation/ Placement Test
Free time
Tue
Aug 2
Lessons
Culture: Yukata
Wed
Aug 3
Lessons
Free time
Thr
Aug 4
Lessons
Culture: tea ceremony
Fri
Aug 5
Lessons
Free time
Sat
Aug 6
Trip: Hakone (all day)
Sun
Aug 7
Free time with your host family or friends
Mon
Aug 8
Lessons
Free time
Tue
Aug 9
Lessons
Trip: Ghibili Musuem
Wed
Aug 10
Lessons
Free time
Thr
Aug 11
Lessons
Trip: Akihabara
Fri
Aug 12
Lessons
Free time
Sat
Aug 13
Trip: Yokohama / Kamakura (all day)
Sun
Aug 14
Free time with your host family or friends
Mon
Aug 15
Lessons
Kyoto Orientation
Tue
Aug 16
Lessons
Free Time
Wed
Aug 17
Trip: Kyoto, visit to a world heritage site,
"Kiyomini-dera", "Kinkaku-ji", etc
Thr
Aug 18
Fri
Aug 19
Sat
Aug 20
Departure
Back to top
Tokyo-C: Jul 2-Aug 20, 2022 (7-week )
Day
Date
AM
PM
Sat
Jul 2
Arrival/Airport pickup
Sun
Jul 3
Free time
Mon
Jul 4
Orientation/ Placement Test
Free time
Tue
Jul 5
Lessons
Trip: Edo Tokyo Musuem/Asakusa
Wed
Jul 6
Lessons
Free time
Thr
Jul 7
Lessons
Culture: Yukata
Fri
Jul 8
Lessons
Free time
Sat
Jul 9
Trip: Tokyo tour (all day)
Sun
Jul 10
Free time with your host family or friends
Mon
Jul 11
Lessons
Free time
Tue
Jul 12
Lessons
Trip: Ueno Zoo
Wed
Jul 13
Lessons
Free time
Thr
Jul 14
Lessons
Trip: Aquarium
Fri
Jul 15
Lessons
Free time
Sat
Jul 16
Trip: Nikko, a world heritage site (all day)
Sun
Jul 17
Free time with your host family or friends
Mon
Jul 18
National holiday
Tue
Jul 19
Lessons
Trip: Tokyo Sky Tree
Wed
Jul 20
Lessons
Mt. Fuji Orientation
Thr
Jul 21
Lessons
Free time
Fri
Jul 22
Lessons
Trip to Mt. Fuji/Fuji-Q Highland
Sat
Jul 23
Trip to Mt. Fuji/Fuji-Q Highland
Sun
Jul 24
Trip to Mt. Fuji/Fuji-Q Highland
Mon
Jul 25
Lessons
Free time
Tue
Jul 26
Lessons
Culture show
Wed
Jul 27
Lessons
Free time
Thr
Jul 28
Lessons
Culture: hand craft
Fri
Jul 29
Lessons
Free time
Sat
Jul 30
Free time with your host family or friends
Sun
Jul 31
Free time with your host family or friends
Mon
Aug 1
Lessons
Free time
Tue
Aug 2
Lessons
Dessert Buffet
Wed
Aug 3
Lessons
Free time
Thr
Aug 4
Lessons
Culture: tea ceremony
Fri
Aug 5
Lessons
Free time
Sat
Aug 6
Trip: Hakone (all day)
Sun
Aug 7
Free time with your host family or friends
Mon
Aug 8
Lessons
Free time
Tue
Aug 9
Lessons
Trip: Ghibili Musuem
Wed
Aug 10
Lessons
Free time
Thr
Aug 11
Lessons
Trip: Akihabara
Fri
Aug 12
Lessons
Free time
Sat
Aug 13
Trip: Yokohama / Kamakura (all day)
Sun
Aug 14
Free time with your host family or friends
Mon
Aug 15
Lessons
Kyoto Orientation
Tue
Aug 16
Lessons
Free Time
Wed
Aug 17
Trip: Kyoto, visit to a world heritage site,
"Kiyomini-dera", "Kinkaku-ji", etc
Thr
Aug 18
Fri
Aug 19
Sat
Aug 20
Departure
(schedule maybe subject to change)
Back to top
Youth Immersion (Tokyo-E): Description of schedule
Before your departure to Japan, you will received host family information and airport pickup information, trip leader contacts and pre-departure guide.
We will pick up students at the Tokyo Narita International Airport on the scheduled arrival day.  Group stays at a city hotel for group gathering and rest (hotel stay included in program fee).
Next day (Sunday), students meet host families at Opening Ceremony in Hotel, then go with the families to their house.
On Monday, host families will buy commuting pass (pass included in program fee) for you, take you to class and show you how to commute.   Placement test will be taken to determine your level and classes.
Classes official start on Monday. Below is daily class schedule:
10: 20 am-11: 05 am, 11: 15 am-12:00 pm, 12: 10 pm-12:55 pm, 2:00 pm-2:45 pm, 2:55 pm-3: 40 pm
Lunch hour is between 12:55 pm to 2:00 pm. After afternoon lessons, many students like to have their own time together in the city before going back to host family's house for dinner.   Students spend the evenings with the host family.
Teachers and trip leaders will monitor students arrival at classes, and host families will monitor students getting back to their house.  No language classes when group trip or culture activities is scheduled on that day, there are two day trips scheduled in the program, culture activities include calligraphy.
On weekends, host families will stay with students to show them Japanese culture, bring them to parties, family events, meet new friends and for trips they arranged.
On the last Friday, Sayonara party hosted at School, students showcase their learning and celebrate with the host families.
On Saturday, host families bring students to the city hotel for Closing ceremony and say good bye to host families, dining for the group in the evening.
On Sunday, we will send students to the airport for drop offs, and students fly back home.
(schedule maybe subject to change)
Back to top
Tokyo-E (14-18): Jul 16-Aug 7, 2022 (3-week) 
Day
Date
AM
PM
Sat
Jul 16
Airport pickup/orientation/ group stay in hotel
Sun
Jul 17
Opening ceremony & meet host family
Mon
Jul 18
Placement test & Lessons
Language activities
Tue
Jul 19
Lessons
Language activities
Wed
Jul 20
Lessons
Language activities
Thr
Jul 21
Lessons
Language activities
Fri
Jul 22
Lessons
Language activities
Sat
Jul 23
Experience Japan: family arranged activities
Sun
Jul 24
Experience Japan: family arranged activities
Mon
Jul 25
National Holiday (family arranged activities)
Tue
Jul 26
Lessons
Language activities
Wed
Jul 27
Lessons
Language activities
Thr
Jul 28
Culture: tea ceremony
Language activities
Fri
Jul 29
Trip: Harajuku or Akihabara (all day)
Sat
Jul 30
Experience Japan: family arranged activities
Sun
Jul 31
Experience Japan: family arranged activities
Mon
Aug 1
Trip: Visit Asakusa (all day)
Tue
Aug 2
Lessons
Culture: calligraphy
Wed
Aug 3
Lessons
Language activities
Thr
Aug 4
Culture: Tea Ceremony
Activity: skit
Fri
Aug 5
Activity: skit
Sayonara party
Sat
Aug 6
Closing ceremony/hotel stay
Sun
Aug 7
Airport drop off
(schedule maybe subject to change),
Back to top