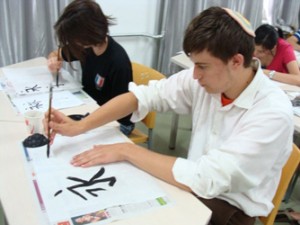 With an atmosphere of personal attention, we offer students an immersion experience in China with intense language learning and cultural explorations.    From intensive classes conducted by state qualified instructors, a broad spectrum of culture and trip activities, a safe & comfort on-campus living, we make sure that all students get a rich and smooth experience.
Requirements:
Minimum age 18 years old by the program start date. Our students come from different countries around the world, from USA, Canada, and European countries, etc. It is a great opportunity to make new friends.
Brochure:
To request an electronic brochure, you can send an email to: consultant@langubridge.org, please put "China brochure: college" in the subject line.
Dates and fees:
Note: we are currently working on the programs, please check back with us later.
| | | | |
| --- | --- | --- | --- |
| Program type | Dates | Program fee | Application deadline |
| BJ4 | closed due to covid | USD 2785 | CLOSED |
| BJSH | closed due to covid | USD 3745 | CLOSED |
* Group Plan: We encourage you to bring friends to share the experience, each student receives a $100 rebate.
**  Program fee is subject to change without prior notice.  Air ticket is not included in the program fee, if you need travel agency information please contact us. The program fee includes:
-Tuition and textbook for all courses;
-Accommodation: on campus shared dormitory;
-Variety of culture activities and classes, city and overnight trips;
-Airport pickup and drop offs;
-Pre-departure guide;
About financial aid:
Please talk to your financial aid office to complete the Financial Aid Consortium Agreement and we will process it.
Courses:
Our language classes are on university campus and conducted by teachers with many years experience of teaching Chinese language to international students, the classes has a focus on speaking and listing, however, reading and writing will also be covered.  The classes will be separated into different levels after the placement test.
 The culture lessons and activities are in the afternoon, and city tours are mainly in the weekends. Please refer to the brochure for schedule details.
Accommodation:
On Campus Dormitory:
Students can choose to stay on campus dormitory with shared room. This on campus housing offers students with a comfortable living quarters, for mingling with classmates, easy access to facilities, and enjoying the campus life. Students live in double shared premium dormitory. Each room is furnished with two beds, a telephone, a television, an air conditioner, and a bathroom inside.
The building is entrance access controlled, so it is secure. Students are also required to sign the logbook if anyone intends to leave campus alone. Internet access can be provide for a relative small access fee. Laundry room is in the same building, Students can have meals on the campus dining halls, or nearby places. The campus is also close to public transit, with easy access to city center.
Homestay:
The homestay allows students to live with local warm-hearted Chinese families, it is a quick way to improve Chinese and learn the culture.
Our host families are all interviewed and carefully selected, they are very interested in sharing the Chinese culture with international students. Students have their own bedroom. Meals are provided by the host family except lunch.
Usually your host families do no speak fluent English, but most of them can speak and understand basic English.