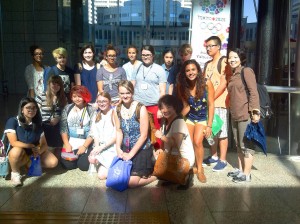 LanguBridge Education Centre was established in 2004 to provide Asian language programs to world youth.  We have sent hundreds of students to Asia through our programs, and we are one of the leading summer program providers focused on Asian languages.
With strong knowledge and experience in Asian countries, we are committed to support our students for a smooth learning and traveling experience. From pre-departure information and travel assistance, quality language classes, exciting activities & trips, to a safe and comfort living, we work hard to make our students' experience as meaningful and pleasant as possible. The focus of our programs is to provide summer programs with affordable cost while maintaining the quality of language learning, culture exposures, and a safe experience.
The following organizations are some of the resources to help us develop and maintain the quality of our programs:
American Association of Teachers of Japanese (institution member).
Canadian Association for Japanese Language Education (institution member)
American Council on the Teaching of Foreign Languages (ACTFL).
Some of our programs have been featured in professional journals or other magazines, for example, in the May 2010 issue of Language Magazine, a leading independent publication for language and literacy professionals.
We are based in Canada, registered under the provincial Corporate Registry in Canada . However, our students come from around the world, from US, Canada and the European countries, etc.
For any questions, please feel free to contact us. Any comments or suggestions on our programs are welcomed.